Please see VERY IMPORTANT parking info below.
S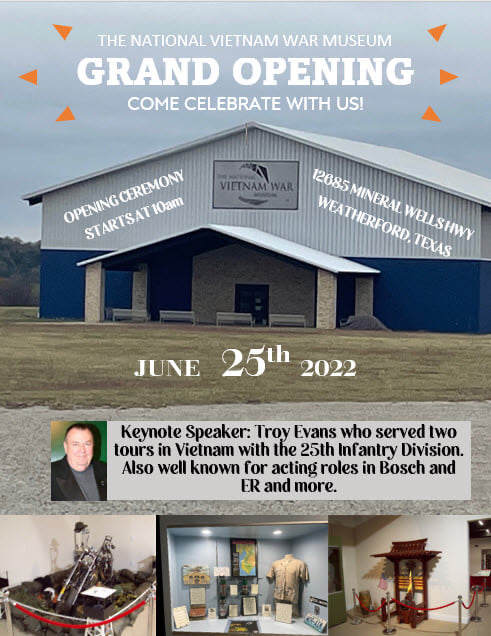 Parking Instructions:
Grand
Opening of the Main Building - Phase 1
of The National Vietnam War Museum
June 25, 2022 at 10:00 a.m.
No general public parking on the property will be available.
Parking on the
museum property will only be available for special guests, speakers and others
involved in the ceremony, board members, volunteer workers, RV's, and buses.
There will be people at the entrance gate to advise you to go to the Primary
Parking area at the former VF Outlet in Mineral Wells. The store is now closed.
Use Google to give you directions to the store address at 4500 US Hwy 180.
Please plan to arrive at the parking area by 9:00 a.m. to have enough time to
park, ride the bus to the museum, and get to the seating area before the ceremony begins. Shuttle buses will take you from the parking area to the museum for the
event and return you to your car after the event.
Overflow parking is available at the Mineral Wells High School when the VF
Outlet parking area is full. To get to the high school, go west on Hwy 180 from the
stoplight at the VF Outlet parking area until you reach the high school parking lot at 3801 Ram Blvd. Shuttle buses will pick you up and return you to the parking lot.
There are outside displays on the museum site to see before and after the event.
The old Visitor Center building will have limited space for a few of you, if needed.
There will be two large tents available that hold 250 chairs each, and 100 chairs on
each of two adjacent uncovered areas provide additional seating.