Current Indoor Exhibits
The Museum
The museum is staffed entirely by volunteers. It is a 2-story building. The first floor of the museum walks visitors through a history of the war -- from its precedent French involvement to the hurried, disorganized evacuation by the Americans. The second story, a large open room, showcases an extensive art gallery as well as some additional exhibits including booby traps and a row of tables covered with silver-canned C rations.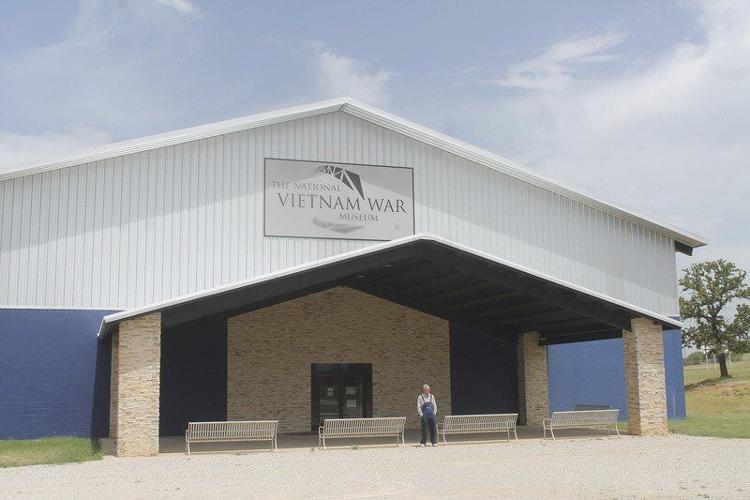 The Visitor Center (now closed)
The Visitor Center at The National Vietnam War Museum was the previous home to our extensive collection. It has since been emptied and contents have moved to the museum.

The Visitor Center is an artifact in its own right, but not of the Vietnam Era exactly. The Visitor Center began its life as a double-wide trailer and was stationed at George W. Bush's ranch in Crawford, Texas, when he was President. The trailer was originally a 6 bedroom, 3 bath facility with 2560 square feet of space, but was not used to live in.
When President Bush came to the ranch, the white house staff made it their headquarters. All the rooms except the bathrooms, kitchen and closets were filled with electric outlets, telephones with wires and internet connection boxes. After the president left office, the trailer went into the Texas Facilities Commission Surplus Property System and was acquired by the museum in 2010.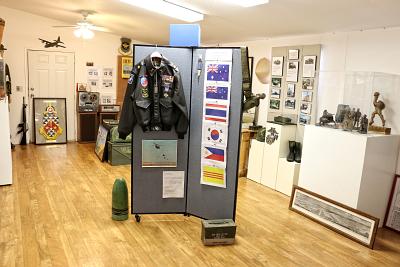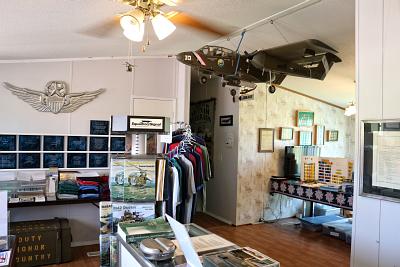 June 7, 2015 - June 4, 2016

Southern Airways of Texas, Inc. held the government contract to train the helicopter pilots who would fly and fight in the Vietnam War.
In 1956 the Army awarded a contract to Southern Airways Company to establish and operate a Primary Flight School at Camp Wolters, Texas. Southern Airways of Texas, Inc. began business operations February 15, 1964, when it purchased from Southern Airways Company, Atlanta, Georgia, all rights, title and interest in that Company Primary Helicopter Training Division at Ft. Wolters, Texas. From 1956 to 1973, Southern Airways Company trained more than 40,000 students from 33 countries.
Combined student and administrative flying time totaled approximately 5,600,000 hours.
For additional details visit the museum.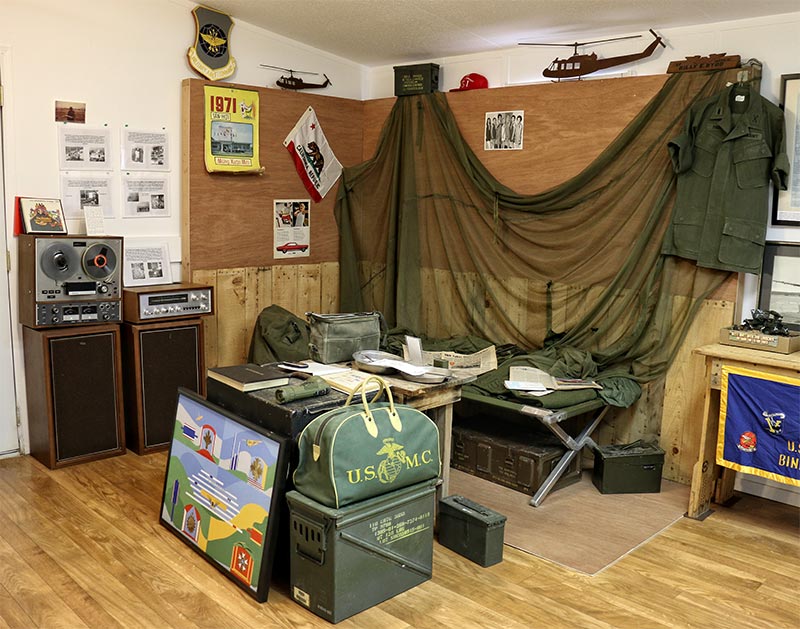 Servicemen and women serving in Vietnam experienced a variety of living conditions. From the infantryman in the field, sleeping in a hastily dug fighting position, with only a poncho or shelter half for protection from the elements, to those assigned to Saigon, living in an air-conditioned hotel room with maid service, and everything in between.
A hootch is the name given to a soldiers living quarters in Vietnam. The mat on the floor represents the usual size of the interior of the hootch.
Visit the Museum to learn more.