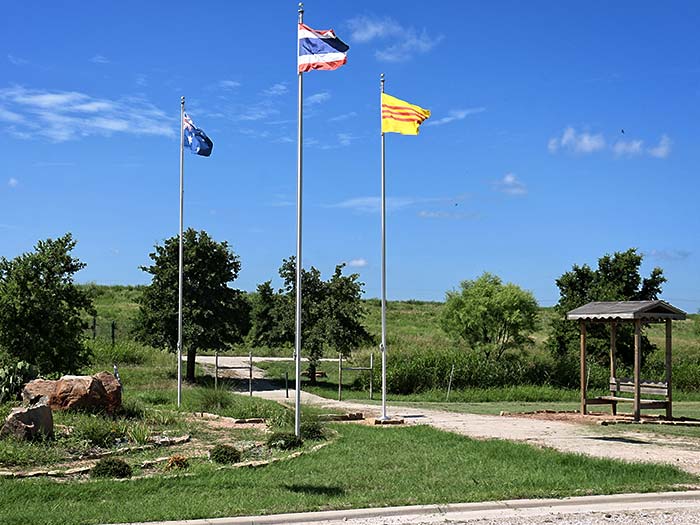 The Rock Creek Trail links the museum parking lot to the Lake Mineral Wells Trailway that runs between Weatherford and Mineral Wells, Texas, allowing bikers, runners and walkers to visit the various gardens on the museum site.
The trail was named for the village of Rock Creek, once a small, successful coal-mining town that was built on the land adjacent to the south side of the museum site in northwestern Parker County, Texas. Settlement of the town began in the late 1870s.
Originally, the village of Rock Creek served as a church community for nearby farmers and ranchers. Later, it adopted the name Rock Creek, after the railroad that reached the area in the 1880s. In 1891, a post office branch opened to serve the estimated seventy-five residents.
But, by the mid-1890s, Rock Creek had been transformed into a thriving mining community. The population reached 400 in 1896 and was estimated at 1,500 during the first decade of the twentieth century. Mining and coal shipments peaked between 1900 and 1910, but after 1910, the cost of recovering the coal became prohibitive and the mines soon closed.
Over the next few years, more and more residents left and businesses closed, until all that remained was the town's cemetery. All of the buildings in town were subsequently dismantled for the materials or moved intact to new locations. During World War II, nearby Camp Wolters was extended to cover the original town site of Rock Creek.
Information for the above article was supplied from a book by Henry Smythe, Historical Sketch of Parker County and Weatherford (St. Louis: Lavat, 1877; rpt., Waco: Morrison, 1973).
Above excerpted from an article by David Minor that appears in the Handbook of Texas
Online, s.v. https://tshaonline.org/handbook/online/articles/hvr58